1. I initially thought that the Banana shire would be filled with fields of delicious yellow fruit bearing palms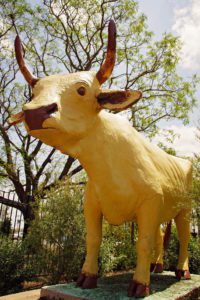 However, I quickly discovered that the name "Banana" has nothing to do with the fruit and everything to do with a handsome lead bullock called "Banana". When the Bullock died, he was taken to a nearby gully, which was named "Banana's Gully". A settlement grew up that took the name of the gully and became the site of the original shire headquarters in 1862. The Banana Shire is named after that township of Banana and is the geographical and historical heart of the shire.
2. The Banana shire is home to one of Australia's last Gold Rush towns called Cracow, which remains an abandoned ghost town.
With a population of less than 50, the main building and business that still operates is the Cracow Pub, owned by the famous Fred Brophy who is the founder of the Boxing tents. There is also an interesting Mining Heritage Centre offering three concrete padded sites with access to water and bathroom facilities.
3. The Banana shire supports a diverse rural and mining sector with industries…
…such as cotton, wheat, beef, sorghum, coal, methane gas, power generation and gold.
4. The Banana shire hosts "campdrafts"…
which are competitions for stock men and women to showcase their cattle ranching skills. Read more about campdrafts.
5. There are some great water sports and fishing spots…
along the Dawson River, Callide Dam and other inland waterways, such as Apex Park in Moura – featuring a boat ramp, various covered barbecue areas and newly upgraded play equipment! Lake Callide Retreat can cater for day activities such as kayak hire and various other activities, also providing overnight and pet friendly accommodation. The Banana Shire also offers some exciting adventures for 4WD enthusiasts in Kroombit Tops National Park (Biloela/Thangool areas) and Expedition National Park (Taroom area).
6. FREE OUTDOOR FUN FOR EVERYONE!
the Lions Park in Biloela also has an awesome playground, barbeque facilities, bike path, flying fox and basketball hoop.  The Banana Shire also offers many walking and bike tracks, they can be checked out here!
7. Thangool and Taroom are known for their genuine Country Race Meetings
with a number of meets across each calendar year, including the Thangool Cup and the Taroom Races.  Taroom horses race the opposite way around the track to other tracks.
8. Banana Shire has an enormous body of Sandstone running through ITS Country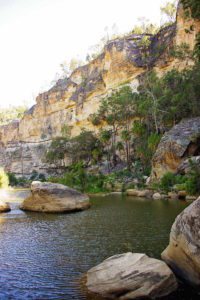 This includes Kroombit, Precipice, Isla Gorge and Expedition National Parks. For the more intrepid hiker, Nathan Gorge is a must. Towering cliffs, indigenous art, waterways and endemic wildlife and plant species abound in the Sandstone Wonders, providing breathtaking views across expansive natural landscapes.
Article by Mel & Pedr Francis from ThisIsOurAustralia. Follow them on Facebook