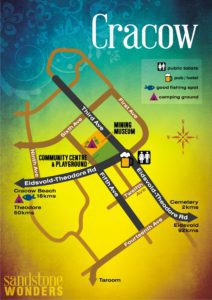 About 155 kilometres south-west of Biloela along the Theodore-Eidsvold Road, you'll find Cracow – a tiny ghost town packed with surprises.
There's some dispute as to why pastoralist John Ross named the area Cracow back in 1851. Some say it was in reverence to the Polish who had fought valiantly for independence, while others say it was the sound of a cracking whip.
No matter though, because in 1875 the town became known for gold!
Sparking a century-long boom, at first prospectors came to try their luck in the fields. Then from 1931 to the mid 1970s when it finally closed its holdings, the Golden Plateau Mine kept the workers coming. In 2004, Newcrest Mine rekindled gold prospecting in the area, with the mine now operated by Evolution Mining.
Now the shops are empty but the Cracow Hotel remains full of life.
WATCH THE DESTINATION VIDEO
Time: 1 minute
Cracow – the ghost town with a ghost
You'll soon discover Cracow is full of the unexpected!
Once a bustling gold mining community, Cracow is now most famous for its fair dinkum Aussie pub – The Cracow Hotel. Decades of memorabilia garnish the walls and ceiling and according to the testimonies of many over the years, its very own friendly ghost. If you don't mind the idea of a chance encounter with the spirit world, you can relax in beautifully themed rooms depicting the great cities of the earthly world.
The town and pub are also home to the legendary Fred Brophy, who is the last of three generations of Fred Brophy's to run the only travelling Boxing Tent show still operating in Australia. The monthly bouts draw big crowds as the troupe travels throughout Queensland. The Boxing Tent kicks off its annual calendar at the Cracow Hotel each April.
If you've never been to a ghost town, the Cracow Ghost Town Historic Walk along the abandoned streets and shopping strip is a fascinating insight into the life and times of yesteryear.
The boxing calendar kicks of each year in April at the Cracow Hotel.
A local's point of view
Can I camp in Cracow?
There's free camping in the town of Cracow itself, opposite the pub and other powered campsites available for the cost of a donation, about 100 m up the hill.
Free camping is also at 'Cracow Beach' north of the town on the banks of the Dawson River.
Other camping options in the Banana Shire.
Is there Fishing around Cracow?
Close-by attractions
Dawson Folk Museum, Theodore
Isla Gorge – Flagstaff Hill and 1860 hand-built Flagstaff Road
Defence Road historical bridges
Cracow Mining Museum
Cracow Historic Cemetery
Close-by locationS
Events
April – Outback Street Derby (billy cart racing)
April – Fred Brophy's Boxing Tent
August – Cracow Wattle (near threatened) – dense groves flower between Cracow and Taroom and in the Isla Gorge area