Jambin – small town, big heart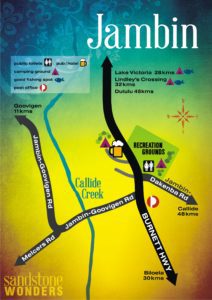 A rural hub with a pub to service weary travellers, Jambin is on the Burnett Highway just south of Smoky Creek. Part of the Callide Valley, the town is wedged between the Callide Creek to the west and the highway to the east, making it a picturesque spot to stop.
Callide Creek is a vital tributary of the Don River, supporting all kinds of farming, cultural and recreational activities. The creek is also a favourite with fishing buffs and well stocked with local varieties including, saratoga, golden perch and yellow belly.
For a tiny village Jambin holds some big events.
Working Dog Trials in June and the Champagne Campdraft in September head the billing of local events. The Events section of this guide has all the details.
A drive along the Argoon-Kilburnie Road will take you to the heritage listed Kilburnie Homestead. Built in 1884, this beautifully maintained pastoralist's home has been in the Campbell family for four generations and was heritage listed with the Queensland Government in 1992.
The town hit notoriety in 2010, when it featured in the first of 3 novels by award winning author Christine Bongers. Born and bred in Jambin, Ms Bongers called on childhood memories of the area to write Dust, a stirring story of family and neighbour conflict, told through the eyes of a 12-year old girl.
Watch the destination video
Time: 1 minute
QUICK FACTS
Lake Pleasant is 15.5 km (19 min) via Goovigen Connection Rd and Burnett Hwy
21 km (13 min) via Burnett Hwy, Lake Victoria is a great bush camping and fishing experience in dry weather
Jambin is an Aboriginal word thought to mean echidna.
Are there camping grounds in Jambin?
Jambin Recreation Reserve on the Burnett Highway has excellent camping facilities for a donation, which can be left in the honesty box under the hall, P: (07) 4995 3136. Jambin Hotel on Biloela Road offers free camping and caravan sites for overnight stays. Budget accommodation is also available, P: (07) 4996 5101 or E: [email protected].
Other camping options in the Banana Shire.
Close-by attractions
Lake Pleasant
Lake Victoria
Close-by location
Events
Working Dog Trials – June 2016, Jambin Recreation Reserve
Champagne Campdraft – May 2016, Jambin Recreation Reserve