Moura – all heart and coal
Moura is a central point and vibrant community for the people who serve its local industries – the farmers, growers and miners and their families that help to make Queensland great.
Lying in the heart of the Dawson Valley, on the banks of the Dawson River, its parklands and public facilities, festivals and events, river fishing and water sports attract thousands of visitors each year.
The quality of life rings true in Moura – hard working people who know how to have fun at the end of the week make the most of their surroundings.
For almost six decades, coal mining has been pivotal to the town. There are no mine tours on offer, however entering from either the south or east, the huge open cut pits can be seen from the highway.
You can almost set your watch by the 150th Meridian marker; the intangible line that measures Eastern Standard Time. Located on the east side of town, two large hollowed rocks sit side by side. Look through the holes and line them up, and you're standing in the direct path of the meridian.
Every fortnight, it's non-stop auction action at the cattle sale yards. A spell-binding experience for the uninitiated, things happen fast as a sea of Akubra hats huddle together, their wearers listening intently to the calls and gabble of the auctioneer.
The Moura Coal and Country Museum in Gillespie Street is open 9.00am – 2.00pm on Wednesdays and Saturdays during peak touring season.
Watch the destination video
Time: 1 minute
QUICK FACTS
Visitors are welcomed at the Bowls , Tennis and Golf Clubs, Moura RSL and Memorial Swimming Pool
The information centre in Gillespie Street has internet access, and is a branch office of Banana Shire Council
How Moura came to be named is still a mystery. It is believed early pastoralist Charles Marshall was responsible. He served in the British Army at Moura in Portugal, during the Peninsular Wars. In 1854 he made a claim on a stretch of land on the Dawson and it was finally registered in 1857.
what do the locals say about moura
Can I camp in Moura?
APEX Park on the Dawson River is 7 kilometres west on the Dawson Highway. Camping is low-cost and facilities include hot showers, barbecue, toilets, picnic tables and a public boat ramp.
Rotary Park in Moura also offers visitors low-cost, short-stay camping with basic facilities, on the Dawson Highway within the township.
There are also a range of well priced hotel/motel and caravan park options within the town.
To find accommodation in Banana Shire, visit HotelsCombined
Other camping options in the Banana Shire.
Close-by attractions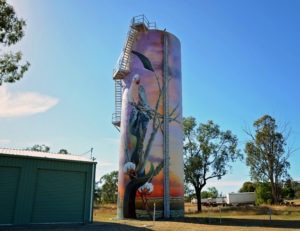 150th Meridian
Moura Coal & Country Museum
Moura's Water Tower Mural
Moura Miners' Memorial
Close-by locationS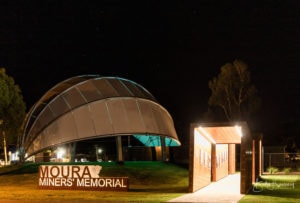 Events
Bronze Boots Campdraft
Coal and Country Festival
Moura Muddy Water Family Fishing Classic