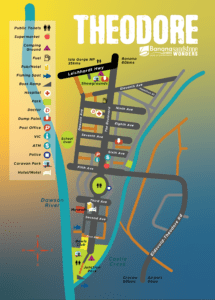 From its earliest days, Theodore was a stopping point for travellers and the same is true today.
A pretty place, Theodore is shaped like a point between the Dawson River and Castle Creek, its palm lined streets give a tropical feel to the place. Neville Hewitt Park surrounds the water tower and is a great spot for a picnic lunch or if you'd prefer a river view, Rotary Park in Fifth Avenue overlooks Castle Creek.
Theodore is an RV Friendly Town.
Watch the destination video
What Do the locals say
the town that water built
Perhaps the most unique feature of Theodore is its pub.
Standing on The Boulevard, the town's main drag, Theodore Hotel's white weatherboard exterior oozes old-time charm. But this pub, like the rest of the town has an interesting story to tell – it's the only pub in Queensland owned by an entire community. The locals took it over in the 1940's, issuing each resident the equivalent of a 25 cent stake, when plans to build Nathan Dam and 5000 new farming plots fell through.
Next to the Fire Station you'll find Rose's Garden. The creek flats turned garden paradise are the love and labour of local couple, Jeanette and Spencer Rose. While weeding might give Jeanette 'the willies', the couple's efforts in creating such a masterpiece over the past 20 years were well worth it. Making the gardens the first stop in the town, people come year after year to check on how things have changed. The stroll takes you alongside Castle Creek up to Junction Park.
Housed in an old power house, the Dawson Folk Museum in Second Avenue is a treat for history devotees.  If travelling between April and September you will likely find the Museum open between 10.00 am – 1.00 pm, Tuesday to Thursday.  Outside of this, the Museum is open by appointment.  Phone Loraine on 0429 931 264.
QUICK FACTS
Dawson Museum is on the corner of Second Avenue and Western Lane, Theodore
Theodore's Centennial Celebrations will begin in 2021 – click here for more info
Theodore is named after former Queensland Premier, Edward 'Red Ted' Theodore (1919-1925)
Where can I go fishing in Theodore?
Junction Park (Dawson River and Castle Creek Junction) is the best place to throw a line in the township.
View the best fishing spots in the Banana Shire
Can I camp in Theodore?
Short stay camping is available at Junction Park by the Dawson River along with picnic facilities and hot showers for a donation.
Theodore Showground offers powered sites for $20 per night. Contact Debbie on 0448 570 415 to find out more.
A dump point is located at the Theodore Showgrounds.
To find accommodation in Banana Shire, check out our Accommodation Guide.
Other camping options in the Banana Shire.
Close-by attractions
Rose's Garden
Dawson Folk Museum
Isla Gorge National Park
Historical Bridges
Flagstaff Hill and the Old Flagged Road
Cracow Beach
Close-by locationS
Events
Bull's 'N' Barrels Bonanza
Theodore Trail Ride
'Hooked on Theodore' Fishing Competition
Spindles and Spurs Campdraft
Dawson River Festival
Storytowns Podcast