Year-round, Isla Gorge National Park is amazing.
Each season and even at different times of the day, the park offers outstanding experiences with the land covered in thick evergreen foliage and a backdrop of coloured cliffs and gorges that put on quite a display as the sunlight shifts throughout the day. However, Mother Nature really turns on the charm in late winter and spring.
During these months, the bush is bursting with native blooms, attracting honey-eaters and bush animals such as grey kangaroos, whiptail and Herbert's rock wallabies. Only found in these parts, the Herbert's rock wallabies are generally hard to spot but graze on the plentiful supply of grasses, flowers and seasonal fruits found across park.
The days are warm and clear and the views from any vantage point are seemingly endless across the distant horizon.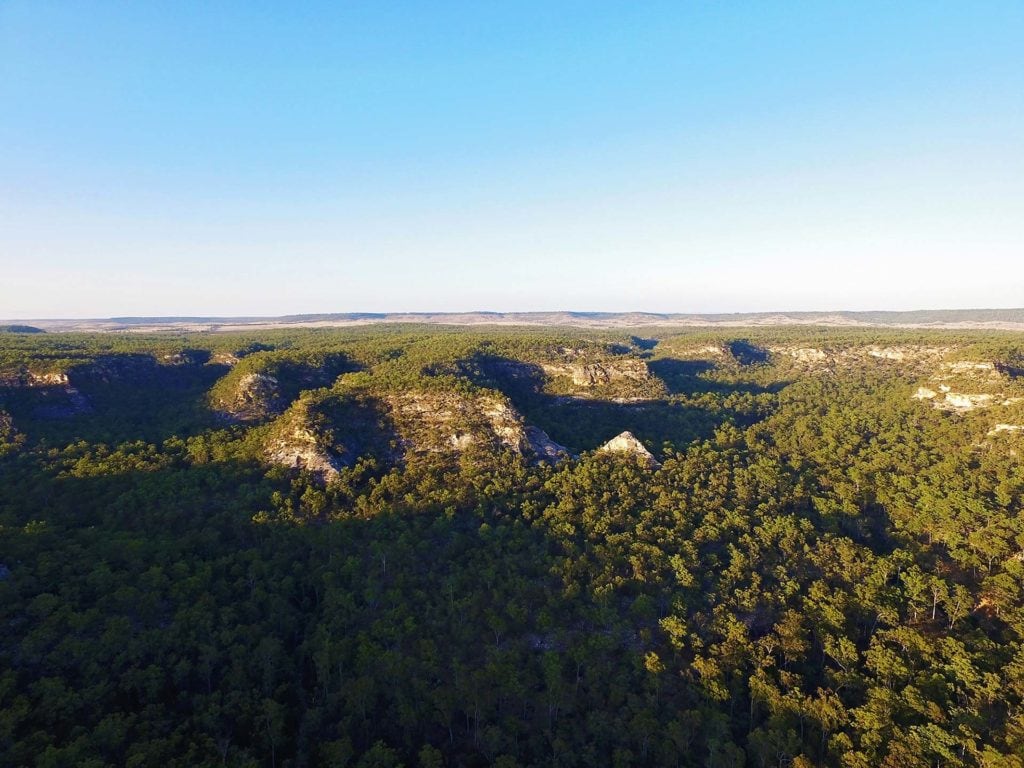 How do I get to Isla Gorge?
Isla Gorge lies between the townships of Theodore in the north and Taroom in the south, on the Leichhardt Highway.
If you're heading south from Theodore follow the Leichhardt Highway until you reach the signpost to Isla Gorge Lookout on your right, turn right and follow the road 1.3 km west to the car park.
From Taroom, drive north along the Leichhardt Highway. Turn left at the Isla Gorge Lookout signpost and follow west for 1.3 km to the car park.
On the way, you might want to detour to see Lake Murphy or Chain Lagoons – just follow the road signs. Both are close to the Leichhardt Highway and great spots to stop and camp, bird watch, stretch the legs or cool off.
http://www.nprsr.qld.gov.au/parks/isla-gorge/pdf/isla-gorge-np-map.pdf
Park Features
Just 1.3 km in from the Leichhardt Highway the bush camping and picnic area is a perfect place to stop and stay.
A stunning natural viewing area, overlooking Gorge Creek and across to Devil's Nest – a large cluster of jagged rocks jutting up from a distant ridge.
1.7 km along the Northern Historic Flagged Road, at the north-west end of the park, you'll find Flagstaff Hill parking area. From here you can access the remnants of the 1860's hand-laid 'flag stone' road, built from great slabs of rock by a crew of just 16 men. The road was used to transport wool from Roma to the Rockhampton port.
Three amazing Flagstaff Hill Drive Routes
From Taroom drive 31 km north along Leichhardt Highwaay. Turn left at the 'Flagstaff via Waterton' signpost and travel 49 km (9 km past the turnoff to Flagstaff Station). Turn left again and drive another 2 km to the Flagstaff Rest Area and information hut. Along the way view the expansive valley from the lookout. From here, you can walk down to the old flagstone paved road. Back on the road, continue north along the Flagstaff Road onto Glenbar Road, then Glenmoral Roundstone Road and follow it to the Leichhardt Highway. Turn left and head to Theodore or turn right and to get to Isla Gorge Lookout. Isla Gorge is well signposted and has camping amenities. You can also continue along the Leichhardt to the south towards Glebe Weir, Lake Murphy, Chain Lagoons or Taroom for your overnight stop.
From Theodore – drive south for 9 km along the Leichhardt Highway and turn off onto a road signposted 'Glenmoral Roundstone' and 'Brigalow Research Station'. Travel 14 km then turn left into Glenbar Road and continue for 3.6 km then turn right into Flagstaff Road. After 9 km turn sharp right into the park at a cattle grid on the top of the range. Follow the road for a further 2 km to the Flagstaff Rest Area and information hut. Take the time to view the expansive valley from the lookout. From here, you can walk down to the flagstone paved road. Continue South along the Flagstaff Road until you reach the Flagstaff via Waterton Road. Turn left and continue on to the Leichhardt Highway. You can either turn left and head to the Isla Gorge lookout, which is well signposted and has camping amenities, or continue on to Theodore for your overnight stay. Alternatively, turn right and head towards Glebe Weir, Lake Murphy or Chain Lagoons for your overnight stop; or continue on to Taroom.
For extreme 4WD adventure take this loop with care. The Flagstaff Hill / Ghinghinda Scenic Loop – from the flagstone paved road, head back to Flagstaff Road, turn right and follow south for about 17.5 km to the Ghinghinda Rd, turn left and follow 36 km. At the Y intersection take the track to the right and continue a further 2 km to the Fitzroy-Developmental Road. Turn left and continue to the Leichhardt Highway. – driving the GhinGhinda Road – Fitzroy Developmental Road – Leichhardt Highway loop from Flagstaff Hill is a 200 km loop for very experienced off-roaders in dry weather only. The sightseeing along the way is magnificent and includes views over a series of natural lakes. Please note the Stay Safe Warning before taking this loop.
Stay Safe
Warning: Check weather forecasts before taking the GhinGhinda loop. GhinGhinda Road is rough and unsealed, suited to high clearance 4WD vehicles in dry weather only. Hazardous to all vehicles in wet conditions and should be avoided.
Take care and keep away from cliff edges—they can be deceptive and are often closer than you think. Sandstone is brittle and may crumble unexpectedly.
Can I camp at Isla Gorge?
YES! Visit the Isla Gorge camping page.
A small but spectacular campsite right on the edge of the cliffs of Isla Gorge. The ground is very rough but some spots are suitable for tent pegs.
Do I need a camping permit?
Yes. Camping experiences are readily available throughout the national parks in the region. Enjoy social camping areas with facilities provided through to secluded bush camping with nothing but nature for company. Remember to bring everything you need for your style of trip, including extra food, fuel and emergency supplies and communications.
Before you set out, you need to book your camp site and obtain a camping permit.
Safety
Many of the parks in the region are remote and have minimum services. You'll need to be self-sufficient and plan ahead for any contingency. If you're adventurous and well-prepared you can escape off-the-beaten-track and enjoy everything this ancient and rugged region offers.
Plan your trip thoroughly. Calculate driving distances, plan your refueling points and allow plenty of travelling time.
Take reliable communication equipment such as a satellite phone or UHF radio. Bring detailed maps, GPS or other navigational devices.
Visit npsr.qld.gov.au/park-alerts for up-to-date information on park access and closures before you set out.
Weather conditions change fast, making roads impassable even when rainfalls are relatively low. Check weather reports regularly and if rain is on its way, head for safer ground. Visit the Bureau of Meteorology bom.gov.au for weather conditions and forecasts.
Find out about road conditions by visiting 131940.qld.gov.au or phoning 13 19 40. Shire council offices and Visitor Information Centres can also provide helpful local advice.
Please check the Queensland Parks and Wildlife Service website for park alerts and updates on Isla Gorge National Park. www.npsr.qld.gov.au/parks/isla-gorge/
In parks, use your common sense when walking or hiking:
stay a safe distance from cliff edges
stick to designated walks that are comfortable for your fitness and level of experience
tell someone where you are going and how long you should be – mobile coverage is severely limited.
always carry adequate drinking water
wear protective clothing to protect yourself from the sun, stings, scratches and bites.
Where can I get more information on the Sandstone Wonders?
For a copy of the Central Queensland Sandstone Belt Visitor Guidesearch on the name or visit www.npsr.qld.gov.au/parks/pdf/cq-sandstone-belt-vg.pdf
You can also pick up a copy of the guide from any of the regional Visitor Information Centres listed.