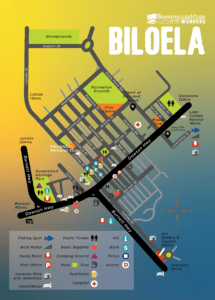 Everyone says 'G'day' with a smile and a nod as you walk down the wide streets of Biloela. It's friendly, warm and welcoming. Buildings wear the tell-tale signs of progress through the decades. Eclipsing other towns as a regional centre, Biloela had some help along the way.
Just a village in the early 1920's, the State Government set up a display farm close by, hoping the growing populous would develop the town. It did.
However, the post WWII years were the kindest of all, Biloela becoming home to an ever widening, multi-cultural community, servicing big business, government and industry bodies, cooperatives and small business as well as the rural and mining sectors that surround it.
Biloela is an RV Friendly town.
Watch the destination video
Time: 1 minute
what do the locals say about biloela
Gateway to country wonderment
Today, Biloela is a busy commercial and tourist hub, though it still retains that relaxed, country feeling.
Along with Queensland Heritage Park and Spirit of the Land Mural pay homage to the men, women and machinery that over generations, have created a legacy of prosperity.
Fashioned and built by the hands of those who forged their futures in a new land, rambling homesteads grace hillsides and streetscapes. The heritage listed Greycliffe Homestead can be found on the outskirts of town. The wide verandah and quaint interior have changed little since they were first conceived.
Further out, Kilburnie Homestead still operates as a working concern, with descendants of the Campbell family continuing to make their mark. In a typical show of country hospitality, for four months each year, Kilburnie celebrates its long unbroken history, throwing the doors open for fun weekends of music and nostalgia.
This is just one of the many festivals and events that cram the annual calendar, along with frequent exhibitions staged at the Banana Shire Regional Art Gallery.  The Shire has a lively arts fraternity and the gallery proudly features the works of local artisans as well as the offerings of others from much further afield.
For those with a hankering for the great outdoors, a short journey leads to a multitude of adventures at Kroombit Tops National Park. With some roads accessible to conventional vehicles and others built for 4X4 excitement, there's every reason to go exploring.  Towering ridges, deep gorges and panoramic vistas spill out across a wide horizon, resplendent against the ravages of time.
Sunny days were made for family camping, fishing and boating fun, whiling away the days on the banks of the Callide Dam. With all the amenities on hand, this is just the place to stay and play for as long as the fish are biting.
Like a compass, all roads lead from Biloela, reaching into the country side and out across the region, taking you to all the places you want to be. Wherever you choose to venture, from the heart of Biloela you'll find your way to the fun and the fantastic.
See and Do
Thangool Racecourse – 12 km south on Australia's Country Way (A3)
Mount Scoria the Musical Mountain – 16 km (17 mins) via Australia's Country Way (A3)
Callide Dam – 12 km (10 mins) excellent for boating, fishing and swimming
Callide Power Station is located at Callide Dam
Callide Mine Lookout – 18 km (15 mins) north east passed the dam takes in views of Biloela, the mine and dam
Kroombit Tops National Park – 25 km (20 mins) to the turn off on Valentine Plains Rd
Alternatively, check out our BLOG – 'What to do in Biloela, top tips for a day in Bilo'. – If you've only got 24 hours to spend in Biloela, we've got all the spots you shouldn't miss, great places to eat and the "must do's" all in this one article.
Where can I go fishing in Biloela?
Lake Callide is one of the shire's top fishing spots
View the best fishing spots in the Banana Shire
WHERE Can I STAY in Biloela?
Queensland Heritage Park on Exhibition Ave, offers 48-hour, affordable powered and unpowered camp sites. Pets on application.
You will also find a great range of well priced hotel/motel and commercial caravan park options.
To find more accommodation in Banana Shire, check out our Accommodation Guide.
Other camping options in the Banana Shire.
Close-by attractions
Close-by locationS
Events
Rotary Car, Ute, and Bike Show
Brigalow Arts Festival
Storytowns Podcast