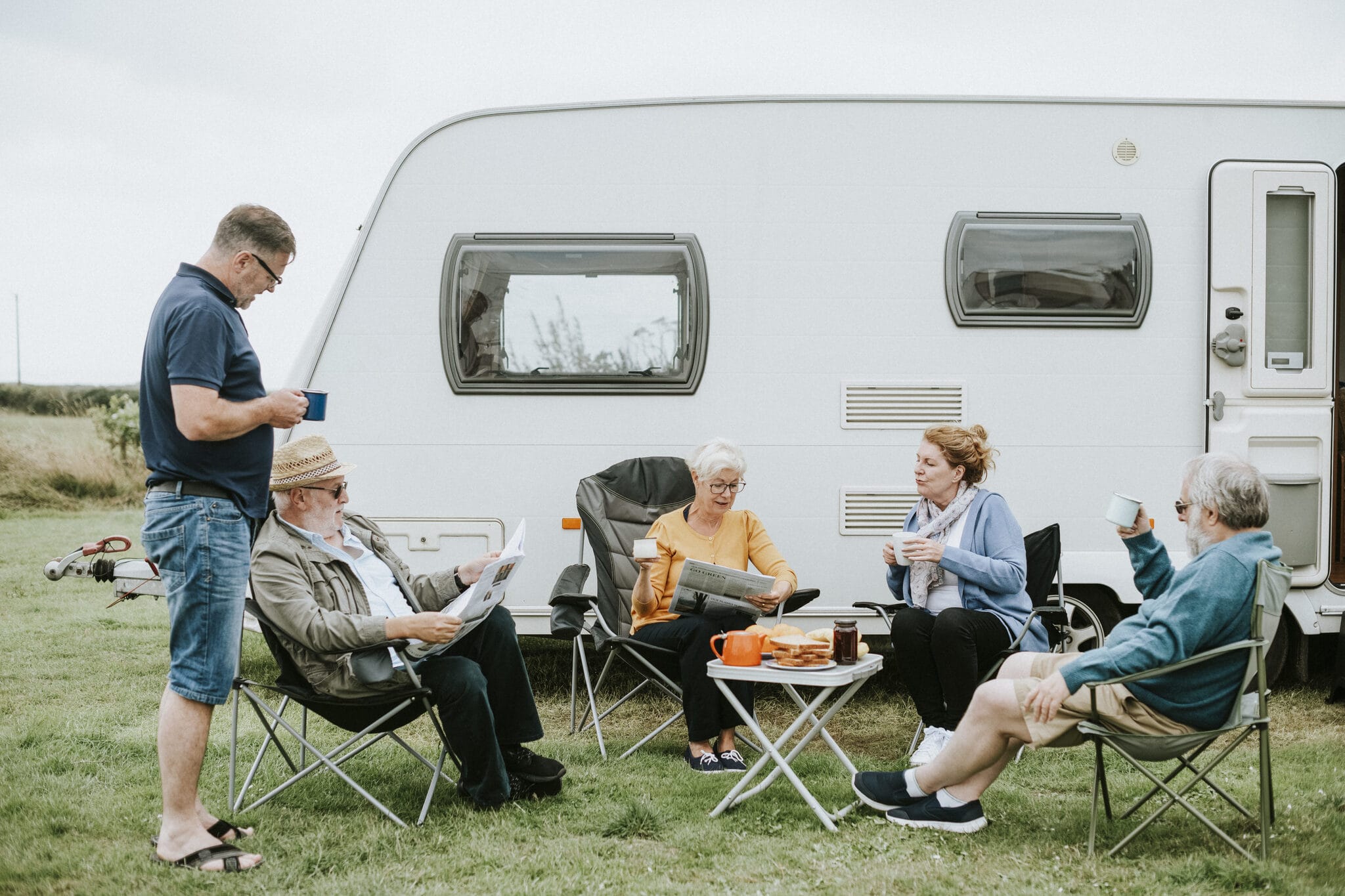 It's the trip of a lifetime – or in some cases, a new life!  As winter rolls into the southern states of Australia, many are preparing to escape the cold and experience the warmth of a Queensland winter.  Towing caravans, camper trailers and the like, the sunshine state welcomes travellers from near and far, seeking out memories to last a lifetime. Caravanning the Banana Shire will guarantee an experience like no other!
Inland from the east coast of Australia are a wealth of hotspots waiting to be explored.  Away from the hustle and bustle of coastal towns is the richness of history ready to be discovered and towns where the country folk say hello and time moves that little bit slower.  Welcome to caravanning in Central Queensland, where you can have a big adventure on a small budget!
Caravanning and camping in the Sandstone Wonders region including Biloela, Theordore, Taroom and Moura, offers a plethora of adventure when exploring the area.  History, events, open spaces, budget caravan parks, free camping options, drive trails and genuine folk that have time to chat.  When planning your trip, where do you start?  With such a big region, with so much to do, how do you choose what will suit you?  Well, fear not – we've got you covered!  In this post we will outline the top spots to visit, popular low-cost camping areas, must see historical experiences and suitable day trip drive trails.
Top Spots to Visit in the Sandstone Wonders – History and Culture at your fingertips
Discovering Rural Talent at the Banana Shire Art Gallery
Located in Biloela, the Banana Shire Regional Art Gallery is a must do!  This gallery is a testament to the local artistic community, who fund raised to build up a collection of works to donate to the Council when a suitable building was provided. Since opening in 2013, the Gallery has become home to around 365 pieces of local artwork.  The Gallery hosts works from local Central Queensland Artists, collection displays and touring art shows and entry is free!
"For a small town Art Gallery they have amazing displays and exhibitions". – Trip Advisor Review March 2018

Inside the Banana Shire Regional Art Gallery
Exploring Taroom's History
One cannot visit the Sandstone Wonders without experiencing the township of Taroom.  If you love history – then make this stop a must-do.  Named after the Aboriginal word meaning 'native lime', Taroom is the second oldest town in Queensland.  Greeting your arrival to Taroom is an iconic Windmill – designed by the Steel Wings Company, this windmill is just one of six models that were ever produced.  In the main street, look out for the heritage listed Coolabah Tree – traveller Ludwig Leichhardt engraved his initials into the tree in 1844. We also recommend a visit to the quaint Taroom & District Historical Society Museum.  Head to the Visitor Information Centre to arrange your visit.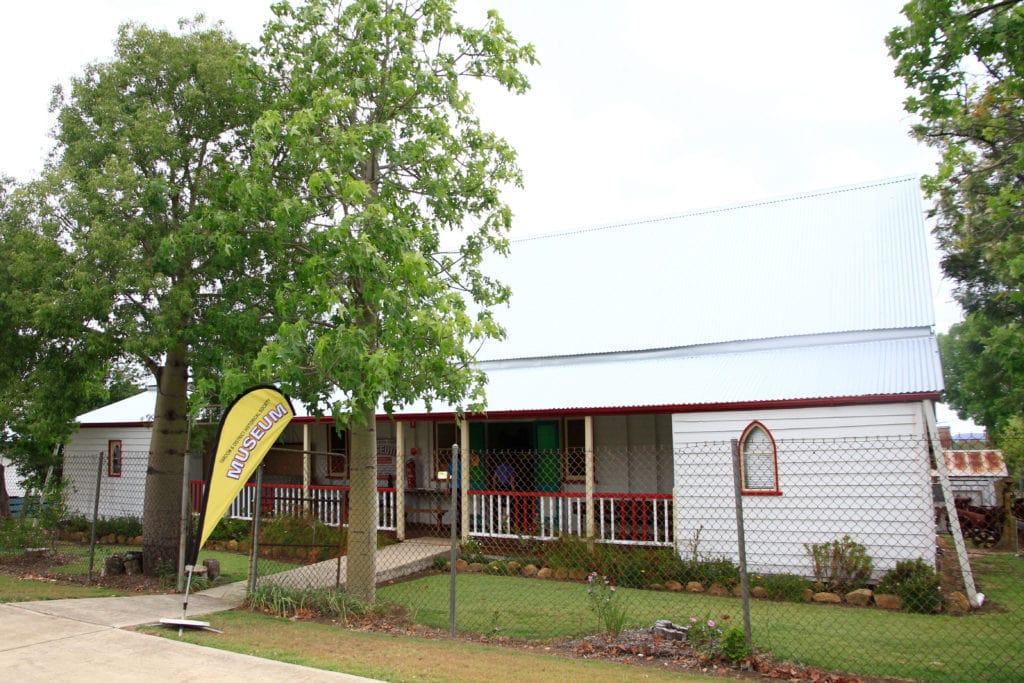 Indulge in the Magical Charm of Theodore
Another popular town that's big on the hit-list is the picturesque town of Theodore.  A locals and visitors favourite, the friendly town of Theodore is located alongside the Dawson River and is a top spot to enjoy some lunch in one of the local cafes or a beer at the pub while having a yarn with the locals.  Theodore's community has a great story about the history of the local pub – you can't visit Theodore without reading the pubs unique story!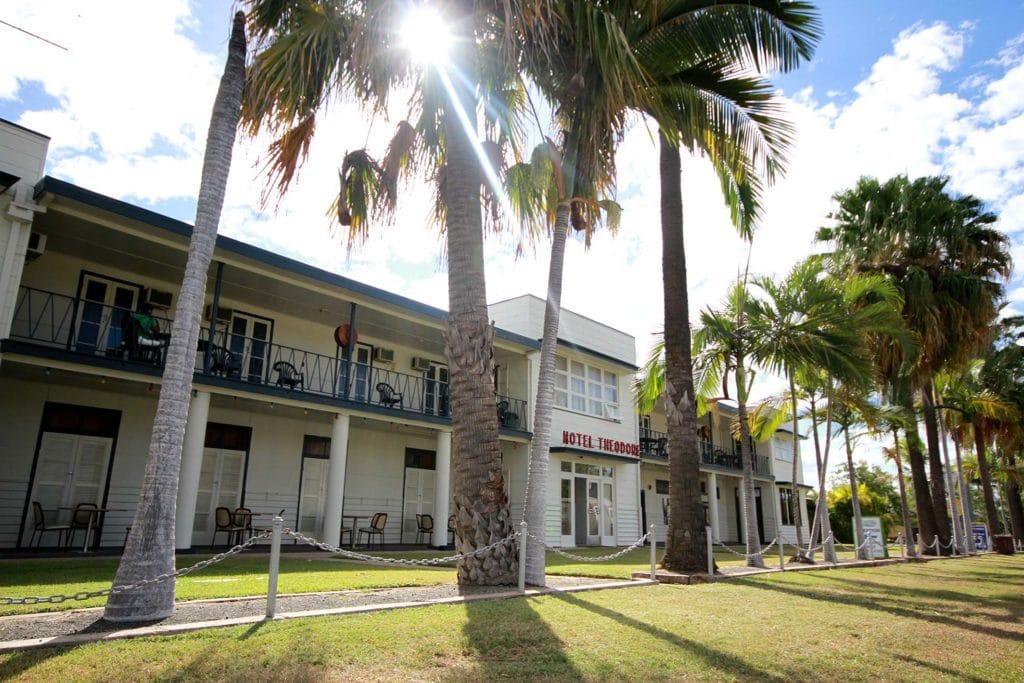 Travel Back in Time at Kilburnie Homestead
Popular with those interested in history, the heritage listed Kilburnie Homestead is definitely an experience not to miss while visiting the area.  Built in 1884, the homestead is much more than 'just a cattle station'.  Whilst history is the drawcard for this unique experience, the Kilburnie team also weave art and music into the mix.  If you can, time your visit to coincide with one of the homestead's open days.  If you happen to be visiting the area and would really love to experience Kilburnie, the team are very accommodating and sometimes open up the homestead to visitors also by request.
Popular Low Cost Camping Areas for Caravans in the Banana Shire
Junction Park, Theodore – Peaceful, Pet Friendly Paradise
Located within walking distance from the beautiful town of Theodore, this 'by donation' peaceful camping spot is suitable for caravanners seeking a picturesque and quiet place to pull up for a day or two.  Positioned on the Dawson River with lovely grassed sites and shade, Junction park has the convenience of hot showers and flushing toilets and is also pet-friendly.  Theodore is a great place to pull up for a day or two, unhitch the caravan and check out a few of the self-drive loops that begin from here.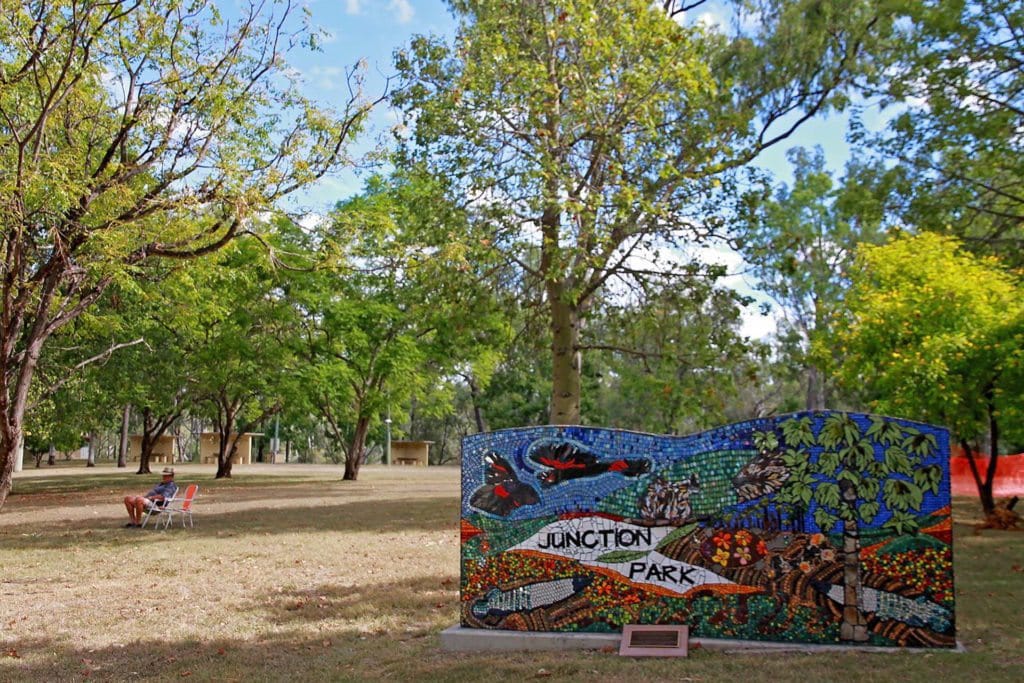 Apex Park Moura –  Tranquil Waterfront Sites
This lovely pet-friendly, shady park is a top spot suitable for tents, caravans and the big rigs.  Located a short 7 km drive from Moura, Apex Park is on the banks of the Dawson River and is budget-friendly with sites available via donation.  Enjoy a hot shower, a BBQ, a children's playground, kayaking and a lovely campfire under the stars.  Whilst you're in the area, it's good to note that right in the township of Moura is Rotary Park – another popular top spot to pull up, but conveniently located right in the heart of town.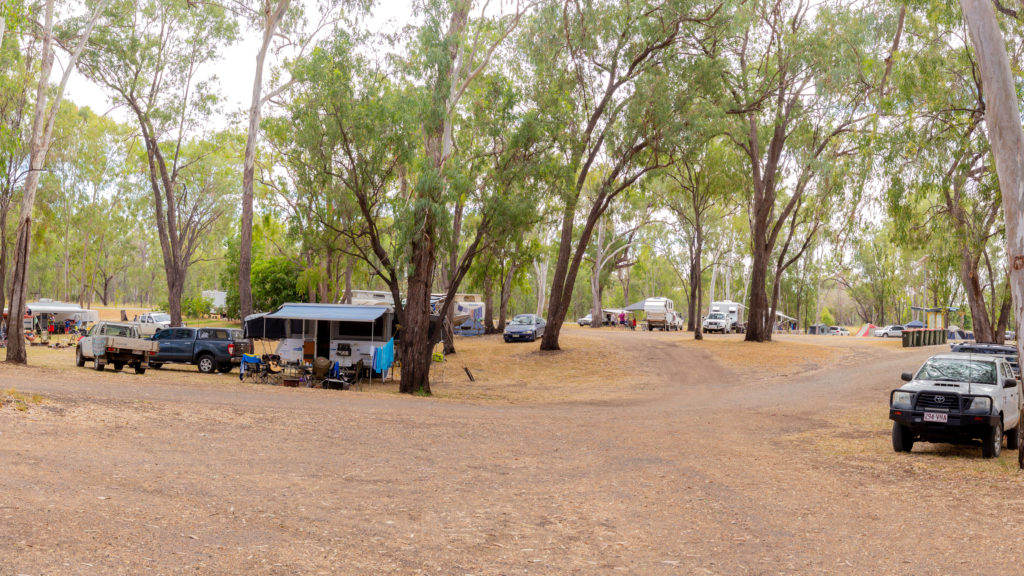 Lake Victoria – Bush Paradise
This free 2wd accessible bush campground ticks all the boxes in terms of peace and quiet and tranquility.  Perched on the edge of… you guessed it – Lake Victoria, the campground is perfect for a winter getaway.  The track is good for dry weather access only, making it a popular choice for caravanners in the dry season (April – Nov).  Lake Victoria is a popular spot for anglers too, so we recommend to try your luck by throwing a line in, you might just catch a feed for dinner!
Camping at Queensland Heritage Park, Biloela
One of Biloela's top experiences also has the added bonus of affordable caravan sites!  Conveniently located close to all the action in Biloela is the Queensland Heritage Park.  This well serviced park offers all the features of a good camp at budget rates and seems to prove popular with like-minded caravanners.  A visit to the onsite historical museum is a must and well worth the experience.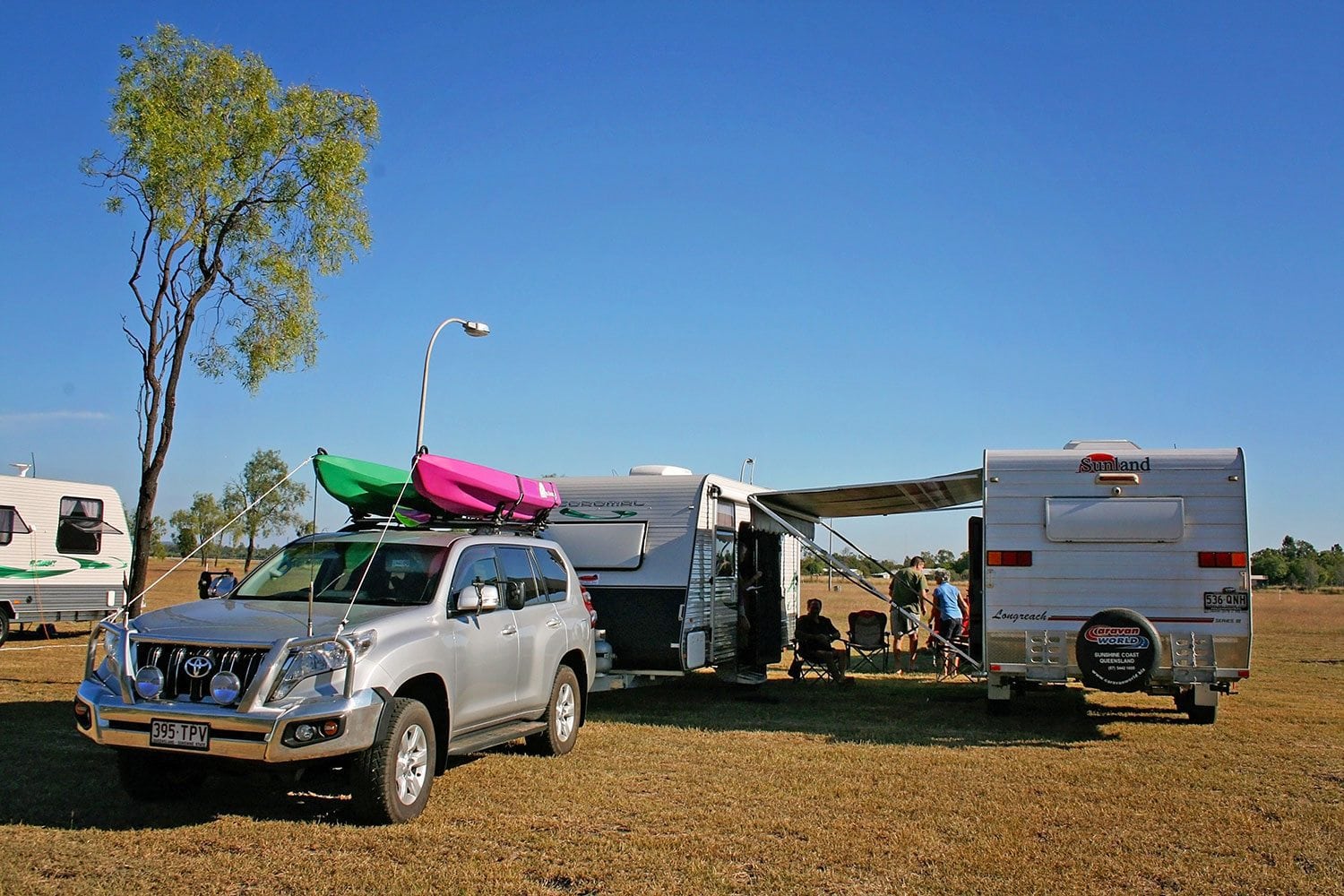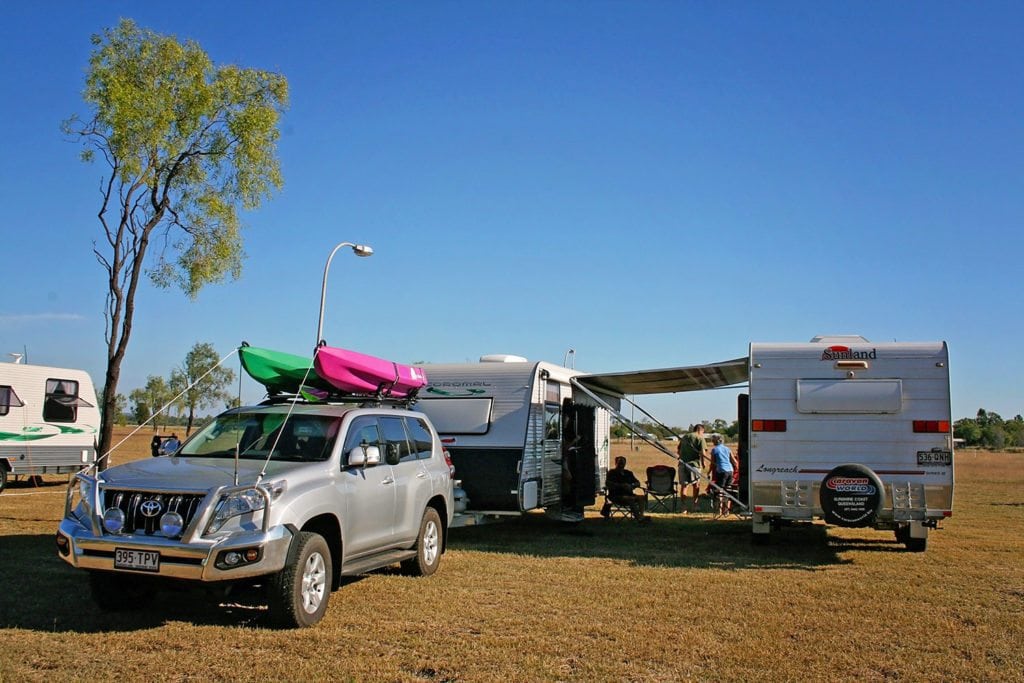 Glebe Weir – Paradise for the Nature Lovers
Got the tinnie, kayaks, canoes and fishing gear with you?  Then do not miss out on this budget caravan & camping site!  Located a 35-minute drive from Taroom, this budget spot is pet-friendly and offers mostly unpowered sites and a limited number of powered sites.  Enjoy the Dawson river from the banks, or in your tinny.  This spot is guaranteed to impress.
The Best Drive Trails For Caravanners – Interweaving history and scenery
To make the most of the Sandstone Wonders region, we recommend taking your time and spending a few nights – at least – in the locations that you wish to explore.  The region has over 15 drive trails – varying from hour drives to multiple day drives.  Below, we explore the most popular drive trails that are no longer than a day in length, enabling you to unhook your caravan and really explore the treasures of the region.  The drive trails we cover here really get you off the beaten track and into the history, landscape, fauna and flora that the region offers.  Pack a picnic lunch, leave the caravan behind and choose your adventure for the day.  We guarantee you won't be disappointed.
Baralaba History Loop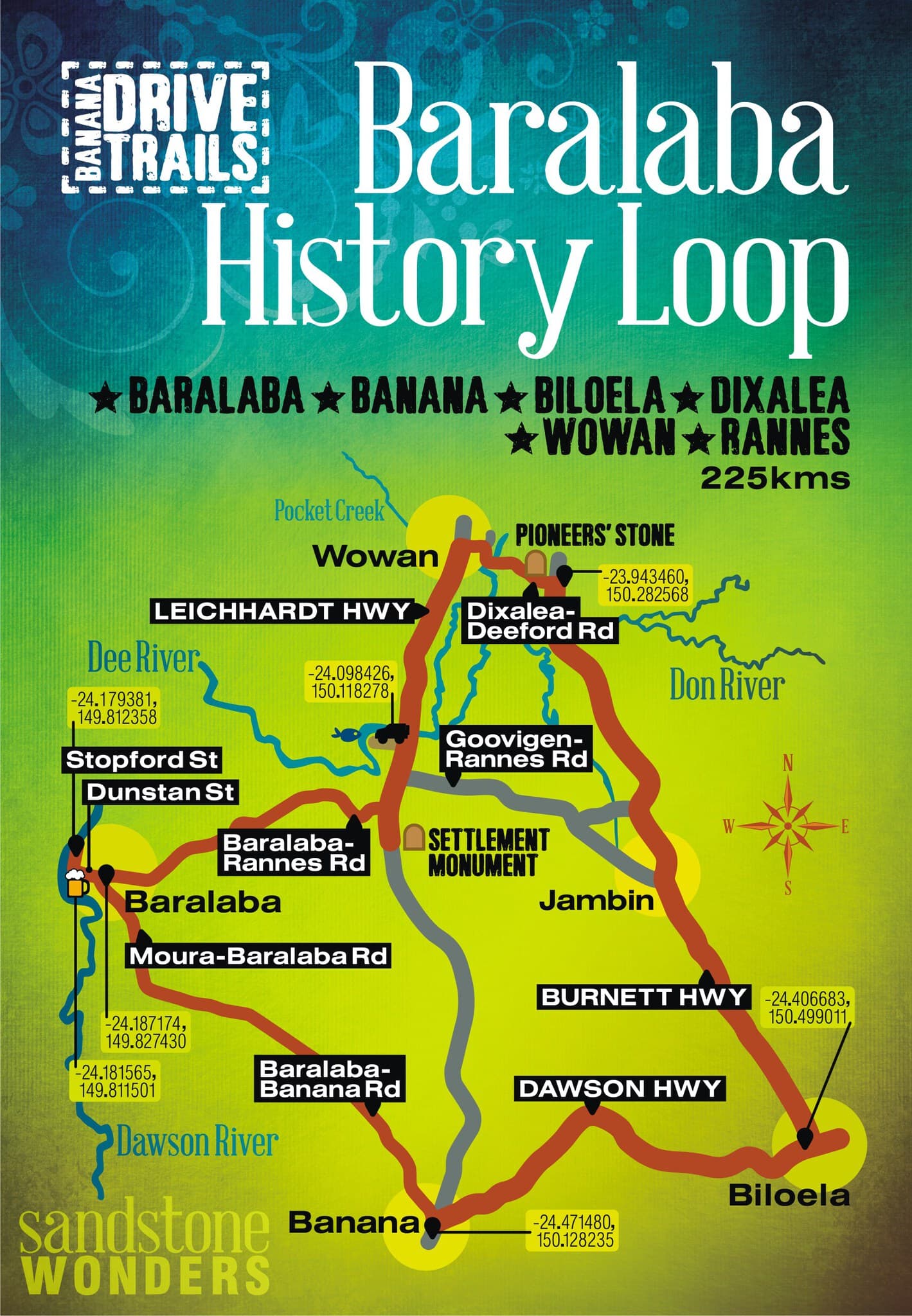 Explore the history and magical surrounds of Baralaba with this easy day-trip drive trail.  If you love stepping back in time, this drive trail passes by Queensland Heritage Park and the Woman Museum and weaves through the towns of Banana, Biloela, Dixalea and Wowan. Explore the lesser travelled roads and really get to see the area with this popular day trip.
Historic Flagstaff Road from Taroom
If you are really seeking the WOW factor – then this is the drive trail for you!  Although the loop is only 2 hours in length, you're likely to kick up a little dust on this incredible adventure.  Expect panoramic views of the Isla Ranges, steep roads, loose surfaces and a day you won't forget in a long time!  You only live once right?!
Historic Flagstaff Road Trail from Theodore
For the rugged nature lovers – we also need to include this drive trail from the other direction!  If you love the outdoors, the untouched beauty of nature, high ranges, steep valleys, flora and fauna, wedge-tailed eagles AND history – you cannot go past this spectacular drive trail.  The hand laid Flagstaff road dates back to the 1860s and is popular with locals and visitors.  Unhook the caravan, pack a picnic lunch and take in all the experiences this incredible drive trail offers.
The Isla Delusion Trail
Want to feel as though you've travelled back in time to millions of years ago?  Then check out this drive trail! Departing from Theodore, your adventure will begin while crossing the Dawson River.  Have your camera ready, you will probably want to snap a few pictures of the beautiful palms lining the river banks, and once you've passed the palms, get ready to take in the wonderful view of Mount O'Kanagal.  Further on you'll get to take in the incredible sights of Isla Gorge as you travel along the edge of the escarpment.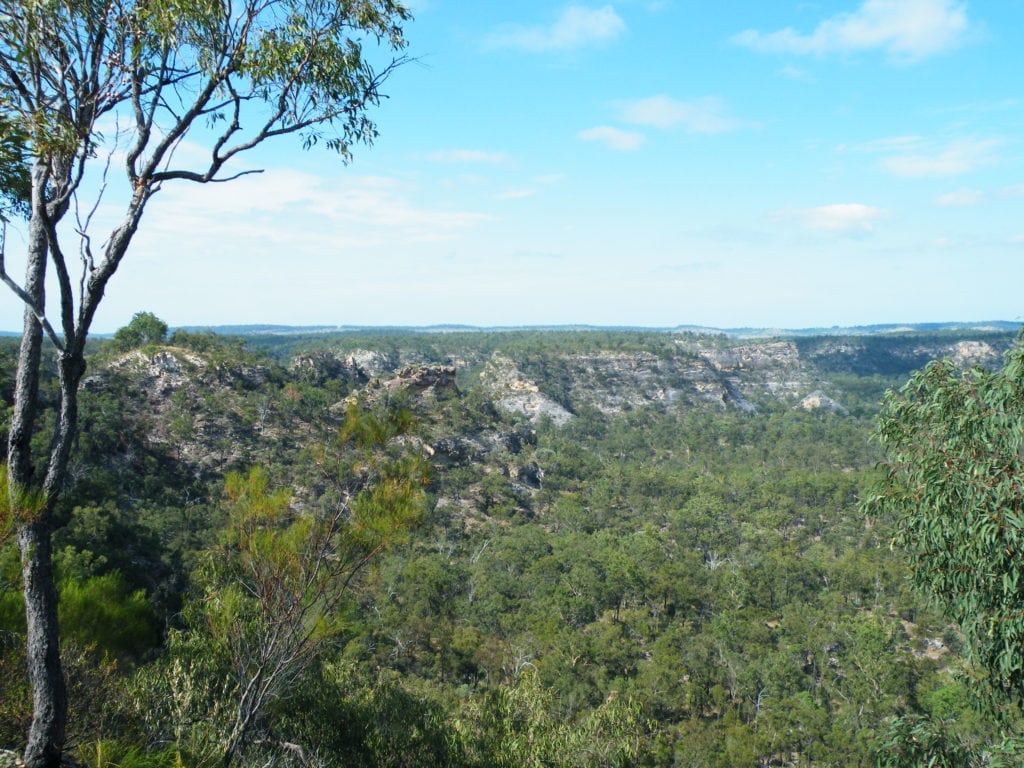 Plan your Sandstone Wonders Journey
The Sandstone Wonders region is filled with memories just waiting to happen.  Experience the best of what Queensland has to offer by planning your journey into the heart of the Sandstone Country.  While this blog summarises a handful of the top spots to visit, there is so much more to see and do.  Begin planning your trip by downloading the brochure.  Next, you might be interested in working out the best ways to get here.  Start planning your stops by checking out the full map of the Banana Shire and the other self-drive itineraries available.  There are plenty of Visitor Information Centres along the way to stop in for a chat, or you are welcome to phone us on (07) 4992 9500 for any questions you may have on planning your next adventure in the region.
For more…
Extra resources to find camping spots: Caravanning Queensland  , Find a Campsite  or the Camp Australia App
Book your camping spot
If you are planning to camp in a designated camp ground or National Park ensure you book and obtain the necessary permit.
Book online at  www.qld.gov.au/camping or phone 13QGOV (13 74 68). Charges may apply.
For more on camping in the Sandstone Wonders read here. 
And please help to care for our precious places and leave them clean as you go. Remember: take only photographs, leave only footprints.