Greycliffe Homestead is the original family home of the Nott family, local pastoralists who owned and operated Greycliffe Station. The homestead is now located in Biloela and used as Biloela Historical Society headquarters. It is open to visitors by appointment.
Greycliffe Homestead – home of local history
Greycliffe Homestead is the closest reminder the region has to home life on a pastoral station in the 1870s. Owned by William and Sophia Nott, the couple raised their seven children on the station, passing it on down through the generations for 100 years.
Constructed of slabs cut with adze and a pitsaw, the homestead was built from materials found on the property. Rafters were crafted from round bush timber and the original roof covered with hand-fashioned shingles.
A basic rectangle with a fireplace, Greycliffe was given a make-over at one time with extensions adding two interior bedrooms, the all-sides verandah with more rooms attached and a stand-alone slab kitchen. Rooms were sealed with stretched calico and walls decorated with chintz glued directly onto the timber.
Well-worn shingles were replaced in the 1920s, with a pitched iron roof.
The outer building was also retained and included a blacksmith shop and shed complete with bullock dray and tip dray.
In 1974, when the last of the Nott's passed away, the local Historical Society stepped in to care for the place. Listed with the Queensland National Trust as an essential element of the National Estate, in 1979 the buildings were moved to Biloela. All survived with the exception of the slab kitchen.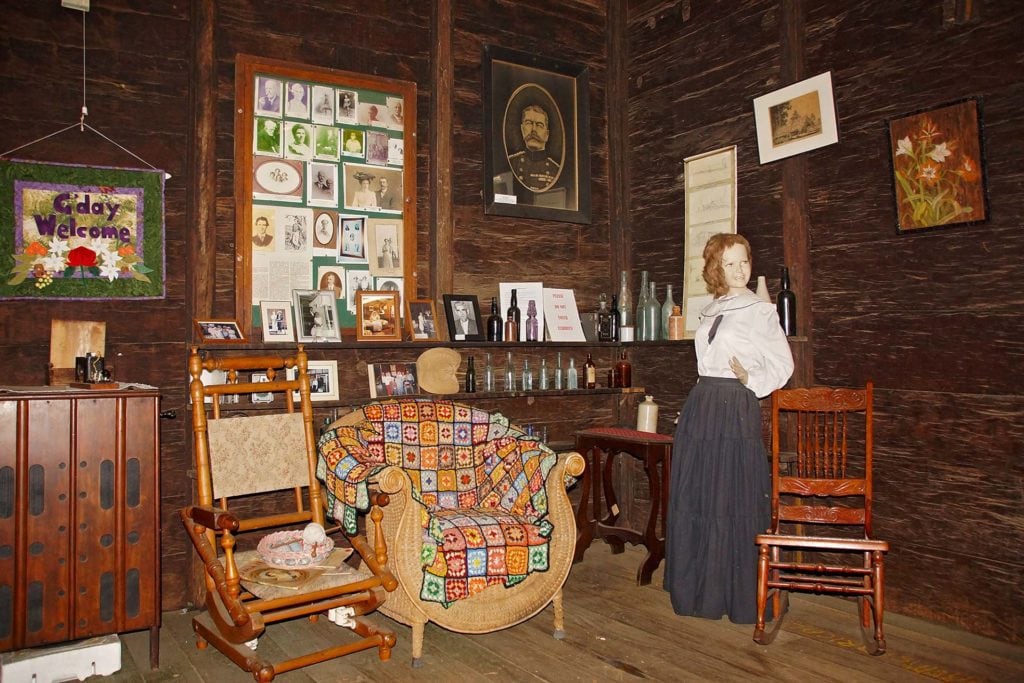 Contact
Greycliffe Homestead – Visitation by appointment only
48 Gladstone Road, Biloela
P: (07) 4992 1862
Close-by attractions
Banana Shire Regional Art Gallery
Queensland Heritage Park
Spirit of the land Mural
Callide Dam
Mount Scoria
Close-by location
Thangool
Jambin
Banana
Moura
Events
Old Wheels in Motion Rally and Swap Meet
Biloela Markets in the Park
Brigalow Arts Festival
Rotary Arts and Crafts Fair