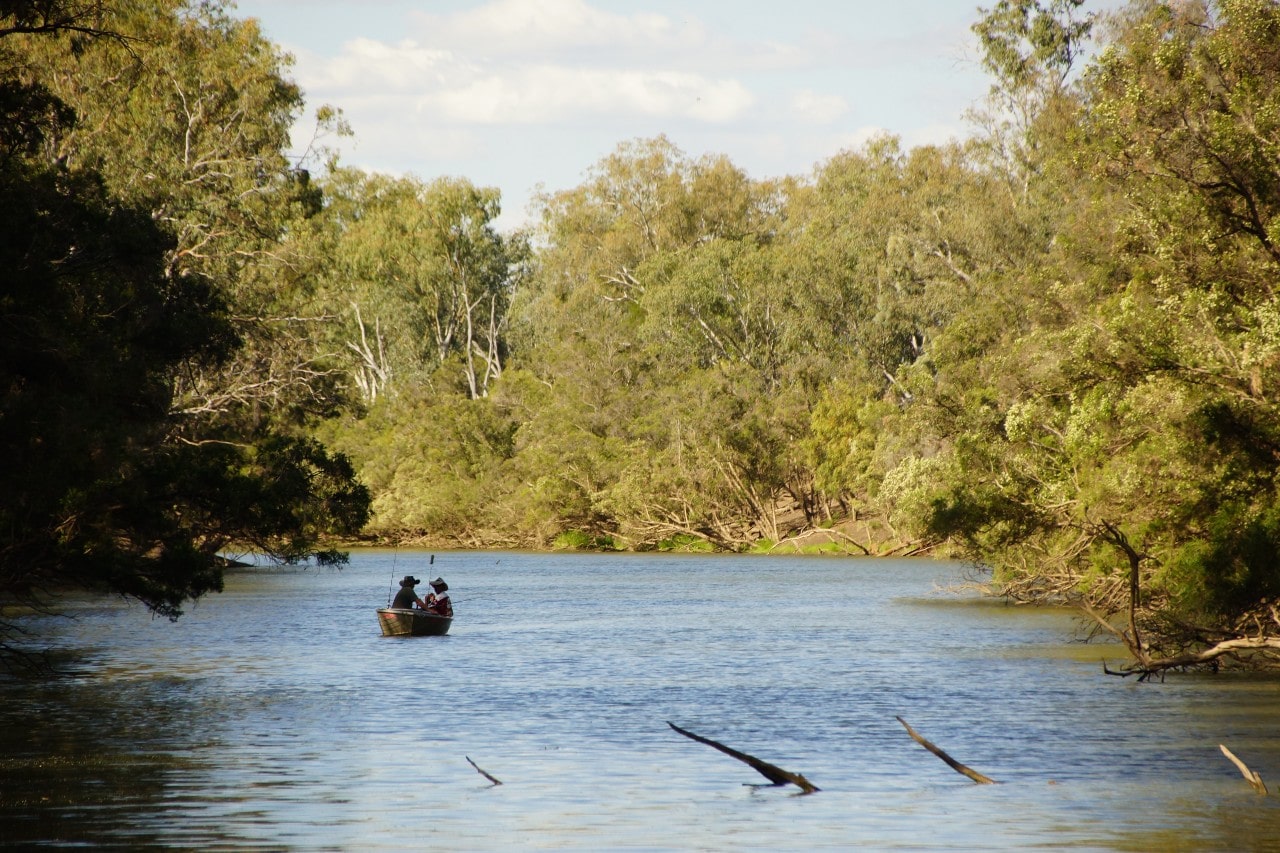 If you're looking for an adventure in Outback Queensland, and wish to get your feet – or line – wet, then dive into our top 7 places for all things water sports.
At the heart of the Banana Shire lies the Dawson River. Starting at the base of the Carnarvon Range, the river flows eastwards towards Taroom, then north towards Moura weaving its way through the land for over 640 kilometres. The Dawson gives life to the community with farming opportunities and recreational hotspots. There's also Lake Callide – a hotspot for every single watersport you can imagine!
From top fishing spots to lazing about in the kayak, the Sandstone Wonders region has something for everyone.
1. Lake Callide – the water sports paradise!
If you are looking for a one-stop spot that has it all, Lake Callide is the perfect place for multiple water sport activities. Lake Callide holds water year-round, making it a great place for your favourite water sport activity. The lake is a popular spot as almost all activities can be done from the lake's shoreline, making it the perfect family getaway that guarantees hours of outdoor adventure for kids and adults.
Dubbed the 'fisherman's paradise', the lake is a popular angler's spot with the dam being restocked each year since 1987 by The Callide Valley Native Fish Stocking Association. Try your luck for the most popular catch, the barramundi. If you can't catch that, you may just hook a sleepy cod, saratoga, golden (or silver) perch (yellowbelly), or a red claw crayfish. With any luck, the annual Lake Callide Family Fishing Classic might be on. A Stocked Impoundment Permit Scheme (SIPS) fishing permit is required for adults above 18 years, which can be purchased through the Department of Agriculture and Fisheries for $10 per week or $50 per year (fees correct at time of publishing). The kiosk at Lade Callide Retreat has fishing rods available for hire.
Lake Callide offers a fantastic day-use area with picnic shelters, amenities block, barbecues, a corporate shelter and a playground for the kids. If a day trip isn't enough time to indulge in your favourite watersports, then we suggest checking out the Lake Callide Retreat. With the water right on your doorstep, there will be no shortage of entertainment for the whole family! The retreat's kiosk offers Kayaks, Stand Up Paddle Boards and Pedal Boats for hire. Check out what other activities are on offer at Lake Callide.
Located an easy drive 90 kilometres south-west of Gladstone and just 12 kilometres from Biloela, Lake Callide is suitable for the whole family. Make a weekend of it or a whole week!
Water sport activities:
Swimming
Stand Up Paddleboarding (SUP)
Fishing
Jet Skiing
Boating
Tubing
Kayaking
Canoeing
Snorkelling
Water Skiing
2. Dawson River at Baralaba Neville Hewitt Weir
Neville Hewitt Weir is the drawcard for the town of Baralaba, offering a place for travellers and town folk to enjoy the refreshing waters of the Dawson River. The weir is a great spot for camping with a boat ramp, picnic tables and barbeque facilities, perfect for the whole family to enjoy!
Of course, fishing is popular in the Dawson and is celebrated with the Great Baralaba Saratoga Classic each September (2021 date to be confirmed at time of publishing). Test your line out with species such as barramundi, saratoga, sleepy cod, eel tail catfish, fork tail catfish, golden perch (yellowbelly), small mouth sooty grunter (black bream), eel, spangled perch and banded grunter.
Check out this map of the town for all you need to know.
Water sport activities:
Swimming
Stand Up Paddleboarding (SUP)
Fishing
Boating
Kayaking
Canoeing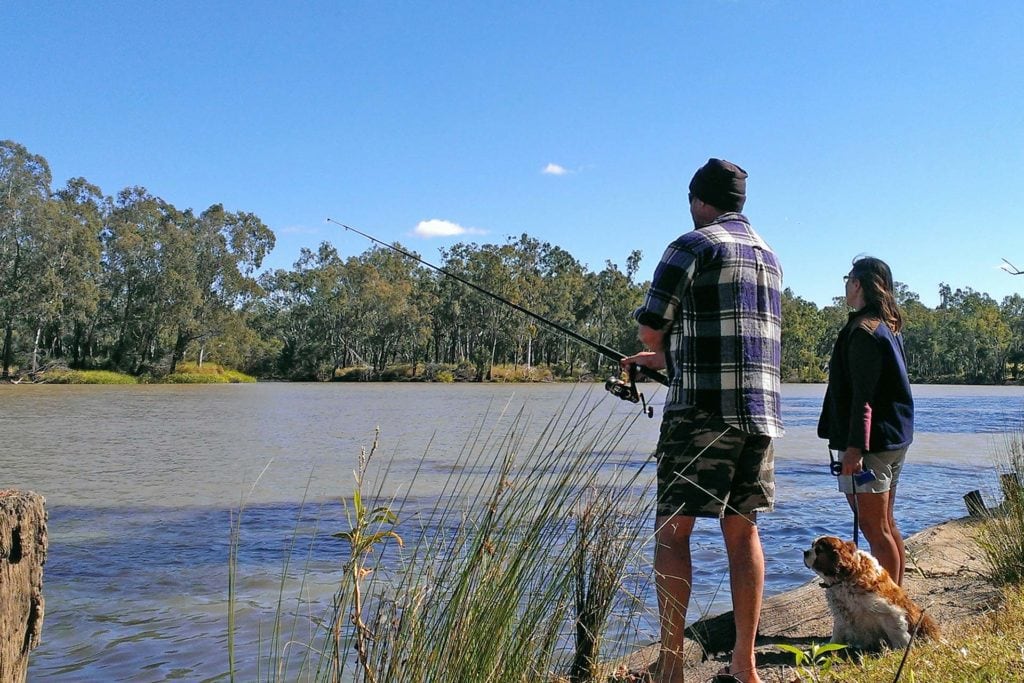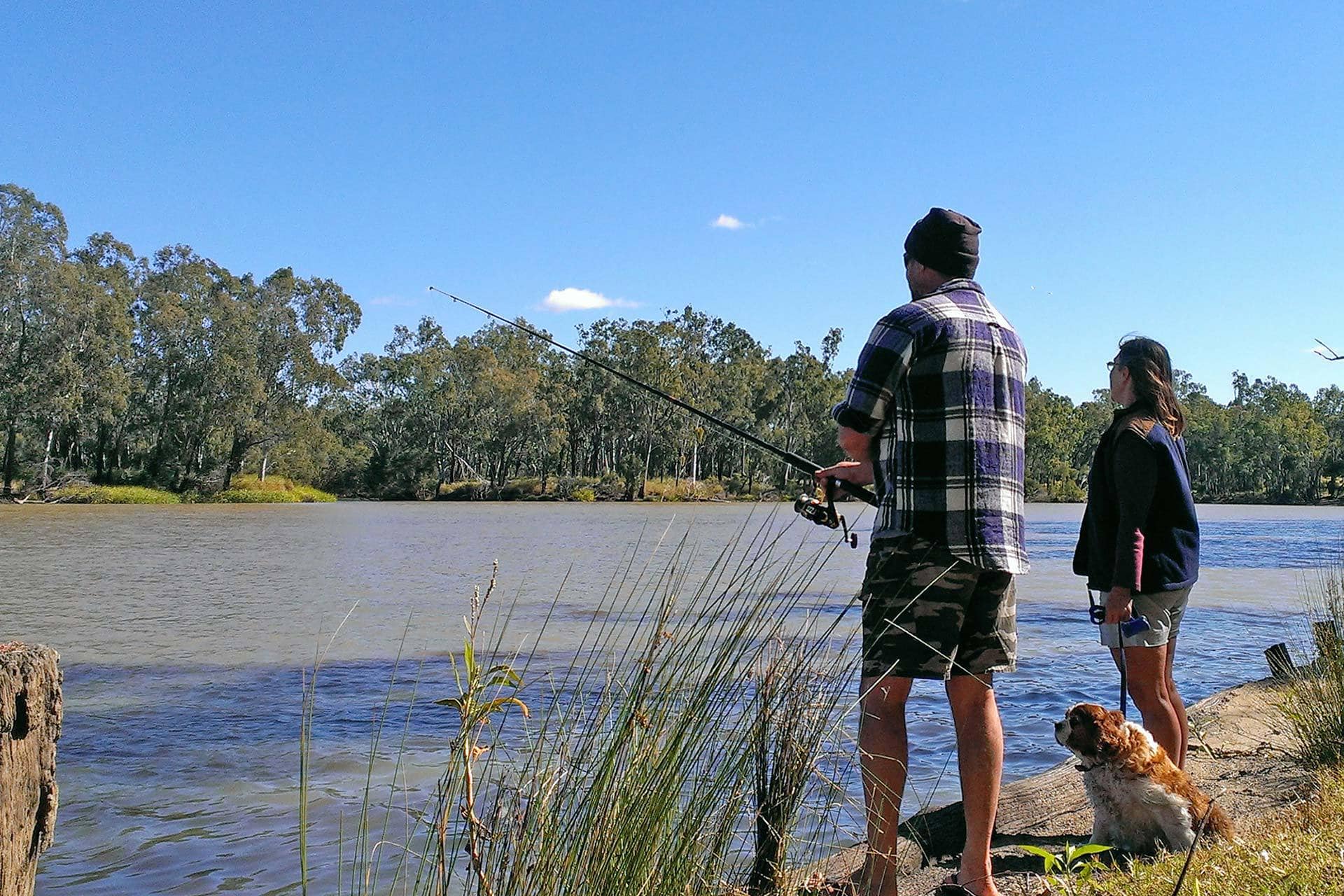 3. get wet In and around Taroom
Stoney Creek Crossing
Once again the Dawson River comes up with the goods. Just on the edge of the township of Taroom is Stoney creek crossing. A local hotspot for those hot summer days, Stoney Creek Crossing is the perfect place to cool off. Treat yourself to an easy 200 metre riverwalk that begins at the end of Hutton Street (see map here).
Water sport activities:
Swimming
Stand Up Paddleboarding (SUP)
Fishing
Kayaking
Canoeing
Glebe Weir
Located just 56 kms, or an easy 35 minute drive from Taroom, is Glebe Weir. A popular place for affordable camping, Glebe Weir offers a picturesque place to swim, fish and explore the Dawson River with your tinny. Home of the Annual Taroom Fishing Competition, the spot is dog-friendly, with owners requested to keep their pets on a leash at all times and ensure that any waste is removed. For those requiring fishing gear or advice, stop by the Taroom Post Office for a friendly chat and lots of local knowledge.
Water sport activities:
Swimming
Stand Up Paddleboarding (SUP)
Fishing
Boating
Kayaking
Canoeing
Wide Water on the Dawson River
Located just a short drive North from the town of Taroom, 'Wide Water' is the locals' go-to for everything water related. Access to Wide Water is off Leichhardt Way and the access track is gravel. Pop these coordinates into your GPS for ease of navigation, -25.624218, 149.794939.
This popular swimming spot boasts a boat ramp and picnic area, a great place to cool off on those hot summer days or drop a line any time of year. If you are lucky enough, you might even find a rope swing to keep the kids (and young at heart) entertained for hours on end.
Water sport activities:
Swimming
Stand Up Paddleboarding (SUP)
Fishing
Boating
Kayaking
Canoeing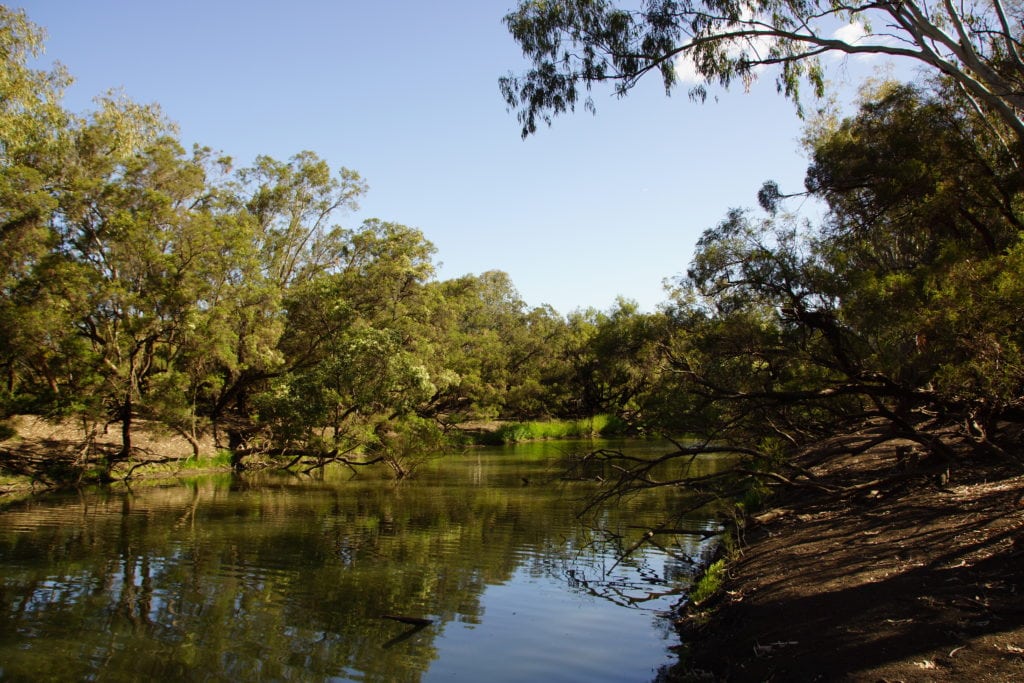 4. Cracow Beach on the Dawson River
Get set for an adventure when you add Cracow Beach to your to explore list! This incredible spot is eye candy for the soul, boasting a forest of Livistona palms amongst the native bushland. Located off the Isla Delusion Rd near where Delusion Creek joins the River, Cracow Beach is accessible by 4WD only.
Cracow Beach offers basic bush camping alongside the Dawson River. Why not make the most of it and explore the surrounding area with the recommended Isla Delusion Self Drive Trail. This handcrafted drive trail takes in the highs and lows of the Sandstone Wonders, with magnificent views and through thick palm forest country.
Water sport activities:
Swimming
Stand Up Paddleboarding (SUP)
Fishing
Boating (tinnies only – no ramp and 4WD access to launch-site)
Kayaking
Canoeing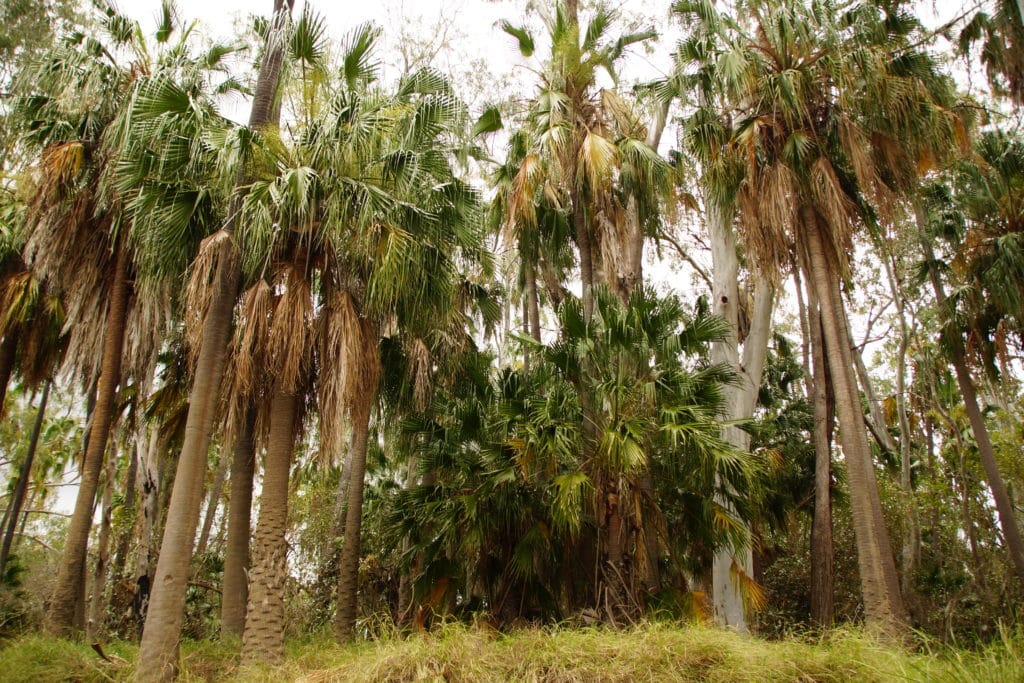 5. Marble Waterhole – Razorback track, Upper Kroombit Creek
If off-road adventure is what you are seeking then Kroombit Tops National Park ticks all the boxes. Kroombit is rugged, off the beaten track and perfect for exploring with or without your family. For a challenging and rewarding adventure, we recommend taking on the 'Razorback Track'. This 2 hour, 27km track takes in gullies, creeks, panoramic views and rugged ridge lines.  Along the way, depending on summer rains, you can stop and enjoy the Marble Waterhole for a nice cool off spot.
Water sport activities:
Swimming
Stand Up Paddleboarding (SUP)
Fishing
Kayaking
Canoeing
6. Nun's Crossing – a spectacular swimming spot
Known by the locals as 'Fraggle Rock', Nun's Crossing offers a spectacular swimming spot for families as it is a great spot for your little ones to play in the shallow water. Pack a picnic to enjoy along the banks of the river and find your inner calm as you listen to the sound of softly running water and inhale the beautifully fresh air.
The best way to experience Nun's Crossing is to make a day of it, sightseeing along the way with the Glenmoral Self Drive Trail. This 76 kilometre trek from Theodore takes about one hour but this can vary if you stop to immerse yourself in the experiences along the way. Once you've taken in the views of Glenmoral Range, the spectacular Glenmoral Gorge and the Dawson Mine you'll arrive at Nunn's Crossing.
If your starting point is Moura, the waterhole is a comfortable half hour drive via the Moura-Theodore Road. To help with navigation, GIS coordinates are -24.798392, 149.971971.
Water sport activities:
Swimming
Kayaking
Canoeing
Stand Up Paddleboarding (SUP)
7. apex park on the dawson river near moura
Seven kilometres west of Moura along the Dawson Highway, you'll find Apex Park, a delightful riverside spot right on the Dawson River. Locals, campers, caravanners, big rig drivers, families and tourists can visit all year round and enjoy the excellent amenities, including free electric BBQs, a boat ramp, shelters and playground. There are clean toilets and showers too, with 60 plus sites available for camping. Look out for the colourful mural, guaranteed to make your jaw drop in amazement!
Whether you want to catch a fish or two for a BBQ dinner, swim, set up your own riverbank slide or go water-skiing with friends and family, this is the place to go. You might even find yourself in the midst of the annual Muddy Water Classic Fishing Competition, held every Easter.
Water sport activities:
Swimming
Stand Up Paddleboarding (SUP)
Fishing
Boating
Kayaking
Canoeing
Water-skiing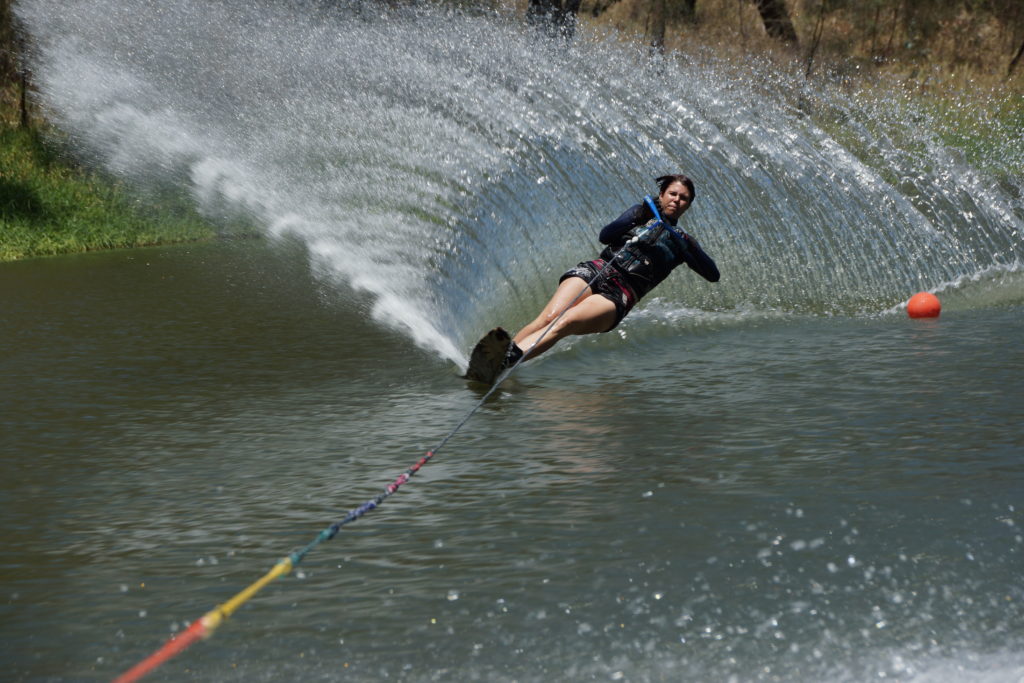 Explore more of the sandstone wonders
Beat the crowds and step outside the norm for your next holiday – come and visit some of the unique favourite experiences of the Banana Shire. There are more than a dozen self-drive tour itineraries on the Sandstone Wonders website that helps you to plan your next adventure in the region.
For more details download the Sandstone Wonders regional brochure or pop into one of the local Sandstone Wonders Visitor Information Centres to get up-to-date visitor tips, brochures and maps.
Or check out some of the suggested self-drive tours.
Extra resources to find camping spots: Caravanning Queensland  , Find a Campsite  or the Camp Australia App
Book your camping spot
If you are planning to camp in a designated campground or National Park ensure you book and obtain the necessary permit.
Book online at  www.qld.gov.au/camping or phone 13QGOV (13 74 68). Charges may apply.
For more on camping in the Sandstone Wonders read here. 
And please help to care for our precious places and leave them clean as you go. Remember: take only photographs, leave only footprints.